The Red Envelope Tradition
A Red Envelope containing money is considered lucky in Chinese tradition (weddings, birthdays, new year). It is no surprise that they play an equally auspicious role in Feng Shui.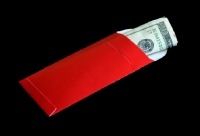 Red is a color that protects. In addition it focuses energy and promotes change.
This tradition is important in my practice because it honors the keepers of secrets.
I ask that the envelopes contain money. This is in addition to my fee. My fee is for my time with you and the experience and information I share.
They may be purchased new or handmade. However they must be new and chosen by you for this purpose.
The amount of money in each is up to you. The number of envelopes is often 9 or multiples of 9.
Mail or hand them to me. When I receive them I will perform a secret ritual with your intention in mind to enhance your results. I will then discard the envelopes and donate the money to charity. This will allow the money energy to keep flowing.
I ask that you honor this tradition when you share Feng Shui Secrets.