Feng Shui Consultation
Each Feng Shui Consultation is individually designed for you in your living space. Personalized Feng Shui Secrets are shared to balance and empower your home.
To an experienced Feng Shui consultant, the symbolic clues hidden in your space become visible and understood. The shapes and locations of rooms, furniture, doors and unseen factors reveal challenges and gifts for you.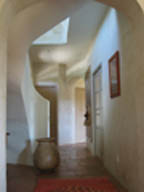 ---
Sketch a simple "birds eye view" drawing of your entire living area on graph paper. This drawing does not need to be exactly to scale, just proportional. Mark the locations of doors, windows, beds, stove and toilets. Keep a copy for yourself for notes. You may want to copy the Bagua of the Heart page from the website for your reference.
An on -site consultation at your home or small business is $180.00 plus 9 red envelopes containing money for charity. Call me so we can schedule a time. 505-301-5123. (large businesses call for quote)
For all of you not in New Mexico, or can't pay for my travel, there is a long distance option.
Mail or attach to email a clear, detailed copy of your plan drawing with photos of your rooms. (Keep a copy for yourself for notes.) Include your phone number and the best time to call.
(International calls will be billed or you can call me.)
Mail a Check or use PayPal to pay the $135.00 fee to Valerie Dow. In addition, snail mail nine Red Envelopes with money for charity.
Because Feng Shui is an oral tradition, shared secrets are much more powerful spoken from one person to another.
We will discuss recommended secret cures to balance your living space. Questions will be answered. You may also email additional questions about your personal experience with your Feng Shui adjustments within three weeks of your Feng Shui Consultation.
I look forward to sharing your story and secrets gleaned from your space while helping you enhance the good Ch'i.
---